THE FOLD PROMOTES THREE ACROSS THE FIRM
Published on Dec 09, 2021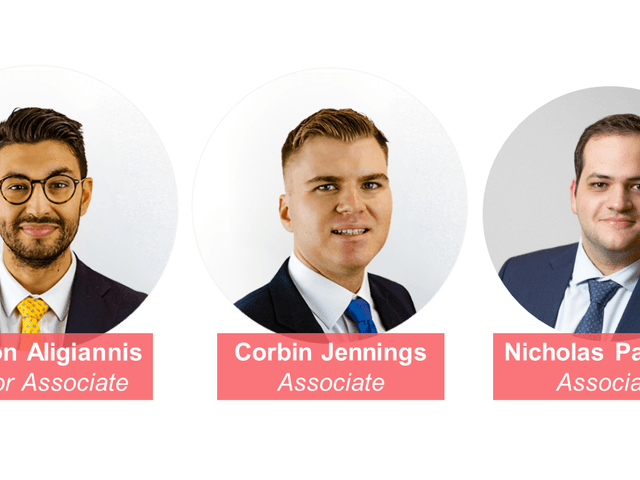 The Fold Legal is delighted to announce a surge of promotions effective 1 January, 2022.
Associate, Glenjon Aligiannis, will be promoted to Senior Associate, continuing his focus on compliance and regulatory advice for wealth and advisory clients with specialised expertise in pre-litigation disputes, ASIC enforcement matters and cryptocurrency matters.
Lawyer, Corbin Jennings, will be promoted to Associate continuing his specialisation in compliance and regulatory advice and mergers and acquisitions with a focus on wealth and funds management, corporate structuring and transactions.
Lawyer, Nicholas Pavouris, will be promoted to Associate and will continue to provide compliance and regulatory advice across a broad range of clients, including payments, credit, insurance and crypto with a focus on capital raising, mergers and acquisitions and AML-CTF.
Partners, Charmian Holmes, Jaime Lumsden and Simon Carrodus said, "We are thrilled to recognise the commitment and hard work demonstrated by Glenjon, Corbin and Nicholas to deliver exceptional services to their clients. Their approach to their work is highly valued by our clients, their teams and the wider firm and we are proud to recognise their contribution to the firm."